Please visit
WatchSoMuch.com
for our official address, Most functionalities will not work on unofficial addresses.
Ismael's Ghosts (2017)
- Also known as "Les fantômes d'Ismaël"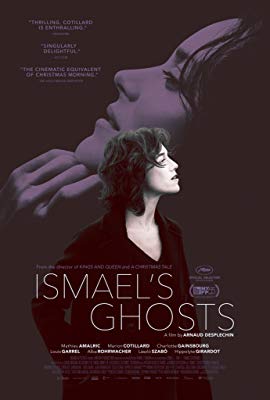 Drama, Romance, Thriller
France (French)
114 min
Bluray

10/10

10/10

0

Updated on 2018 Oct 06

4 nominations.

483 Downloads
Enable your VPN before download
Get ExpressVPN (30-day money-back)
Director:
Arnaud Desplechin
Cast:
Mathieu Amalric

,

Marion Cotillard

,

Charlotte Gainsbourg

,

Louis Garrel

,

Alba Rohrwacher

,

László Szabó

,

Hippolyte Girardot

,

Jacques Nolot

,

Catherine Mouchet

,

Samir Guesmi

,

Mélodie Richard

,

Bruno Todeschini

,

Pascal Ternisien

,

Philippe Fretun
Synopsis
Twenty-one years ago, she ran away. And twenty-one years later, Carlotta (Marion Cotillard) is back from the void. But Ismael (Mathieu Amalric) has been busy rebuilding a life for himself with Sylvia (Charlotte Gainsbourg) and working on his next feature film. As Ismael's trials and tribulations unfurl, so too do those of his film's protagonist: the idle, funny and reckless diplomat Ivan Dédalus (Louis Garrel). The character is a nod to the ghost of another of Desplechin's creations, the brother of Paul Dédalus, three-time hero of "My Sex Life - or How I Got Into an Argument," "A Christmas Tale" and "My Golden Days." A film within a film - and then some, Desplechin layers narrative upon narrative. With ISMAEL'S GHOSTS, Desplechin returns once more to the past, creating film after film as his way of stepping back in time, and proving yet again that his brand of genius lies in his ability to find light in the darkest of places.